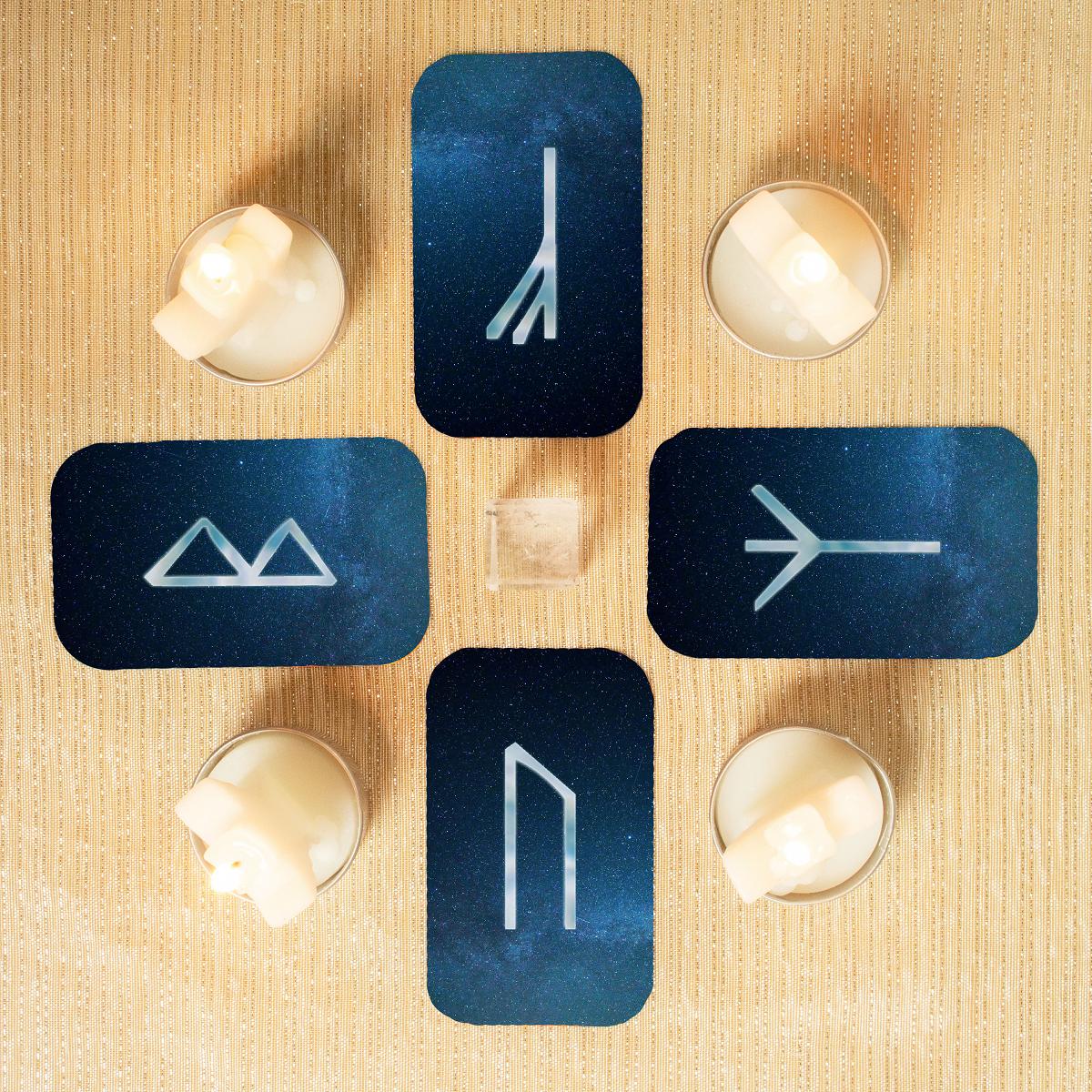 A specific guidance for the solar sign of Capricorn from 30 to 40 years old, the theme is spirituality in general, within the professional framework that finds itself in imbalance with the external environment, valid for four months, from March to June 2020.

This draw highlights the hidden influences that affect your current life, in order to harmonize them and regain balance in everyday life.

Carried out with the help of my guides and my pendulum, this draw is intended to reveal a wound, in order to heal a part of you that must die to allow you to be reborn on new foundations, a lesson to discover the hidden treasures of your deep nature and finally, the possible destiny that you will be able to experience by sharing the gift of your authentic self.

The draw is inspired by the Mystical Shaman Oracle, represents the four cardinal directions used in the Shamanic Medicine Wheel.
Once you have completed the Medicine Wheel at the end of this analysis, you will be able to move forward with more balance in your professional environment and will be more comfortable in expressing and experiencing your spirituality with your professional entourage on a daily basis.

The first point we will address is the relationship between the theme and the draw suggested by the guides. The theme of spirituality in general in the external professional environment, indicates that there is discomfort in your spiritual expression with your professional entourage.
You don't feel confident, you may be afraid to reveal your beliefs and reveal your authentic self and this generates stress, anxiety and fatigue.

I will now proceed with the analysis that should allow you to become aware of the issues and energies that block your expression and give you the tools to find the best way to reveal yourself in respect of your needs and your personal integrity.
May balance be upon you!
---
Each cardinal direction approaches a different theme, we will start with the South, which represents what must be let go of  in order to heal from an old wound that you no longer need to identify with.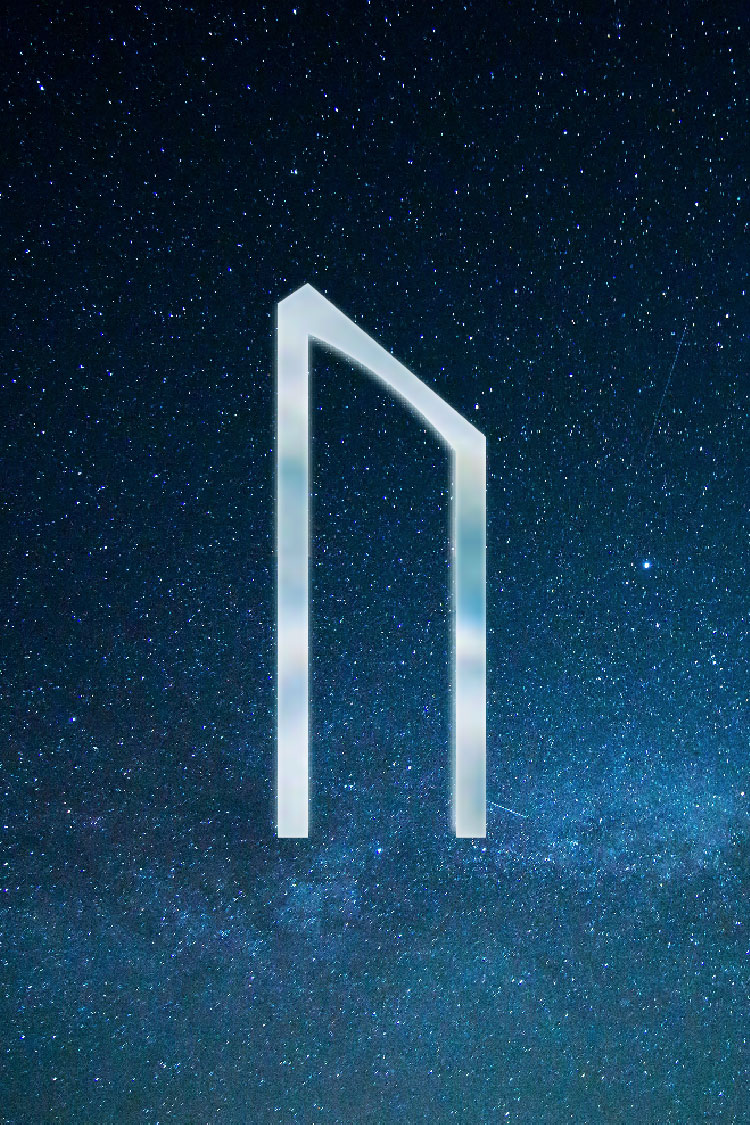 Uruz, the rune of metamorphosis, transformation and strength, tells me that, in the past, you probably had to make a difficult choice and decided to leave an essential part of yourself in the shadows in order to belong to a group or to be accepted in your work. It also tells me that your confidence in your surroundings and in yourself has been hurt. You don't think you can show yourself in your best light because you're afraid of being judged or rejected.

However, you made that decision in good conscience at the time, so you know why you did it and accepted the consequences. However, today, a new transformation is coming and a new choice will be asked of you, you are now asking yourself the question of your authenticity and your place in this environment which, once, was satisfactory.

Perhaps you now feel capable of showing yourself in your true light and wish to find an environment that is healthier and sweeter for you and your new consciousness of yourself and your spirituality. You may feel torn by your responsibilities and are afraid to "abandon" others when you had committed to stay for a while, but today things have changed and you feel guilty about both leaving and staying!

Uruz tells you that you are on the right path, the decisions you made yesterday have led you to where you are today, you have the right to change your mind, to withdraw with gentleness and respect. You are asked to be clear with yourself and what you need.

If you feel it is time to leave, you are asked to make peace with this idea, to take into consideration your needs and current circumstances. Don't rush in and try to find constructive ways to feel better about expressing your spirituality on a daily basis while respecting yourself.

This draw is valid for four months, an ideal period that invites you, until spring, to determine what is right for you. Perhaps this situation is not so negative, perhaps you will find ways to feel better while respecting your values.

In any case, the exercise you are asked to do, is to find a way to no longer identify with your past choices, to take care of yourself and to let go of judgment. Be gentle with yourself during this time, maybe you need to be alone for a while.
---
The second rune, to the west, reveals the part of you that needs to die, in order to be reborn. This work takes time and can be challenging, which is why it is important to take your time to fully integrate what is happening to you.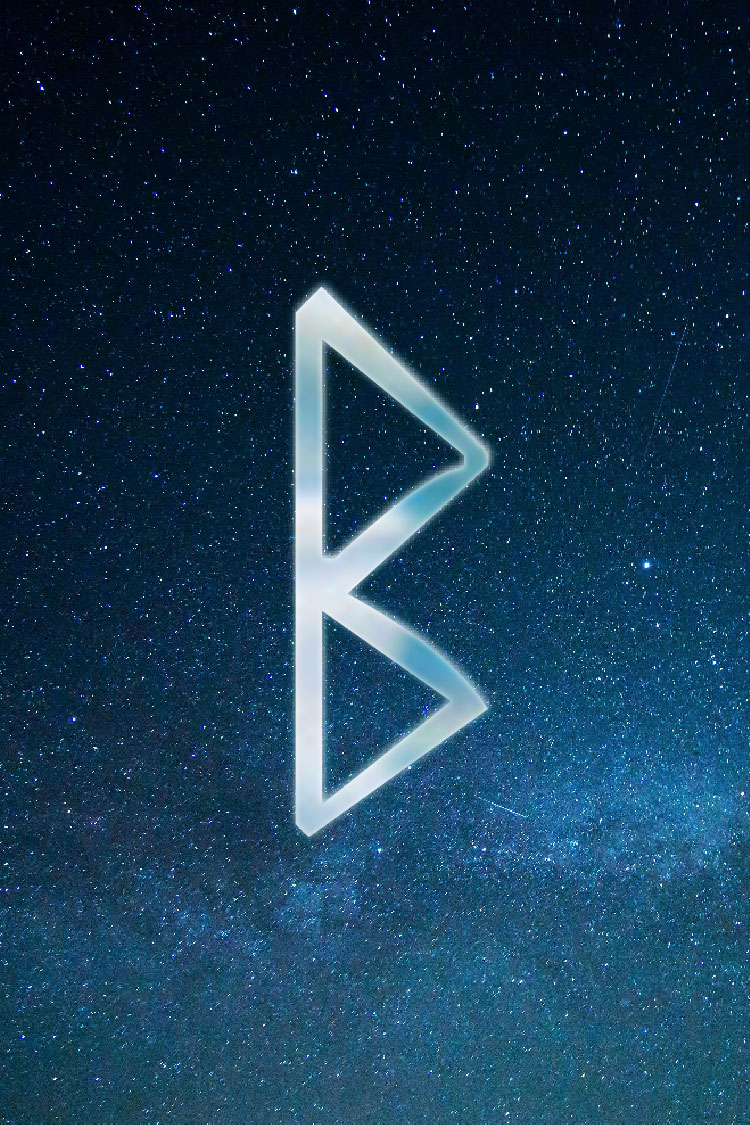 Berkana is the rune of acceptance, evolution and growth; it tells me that what must die in you is a form of unjust acceptance of things. You are asked to regain your personal power by no longer accepting what is not fair to you and that does not respect your integrity at all levels.

You are probably working hard and constantly trying to become better, to face your fears and you are probably trying to "rationalize" your experience by telling yourself that if something bad, difficult, which causes you to suffer or does not respect you happens to you, this means that it is a spiritual experience that is offered to you to grow and that you must accept it without flinching!

It is true that the lesson you can draw from a difficult situation can be acceptance, openness, peace and love, but we must not forget that love is first and foremost love for ourselves and respect for your personal integrity! You are reminded here that it is not necessary to accept without saying anything whatever happens to you!

The lesson that can be learned from a difficult moment can also be a perfect mastery of one's emotions when expressing your true feelings, it can also be learning to always be present for yourself, that is to withdraw when an argument does not concern you, to conserve your energies.

You don't need to help others all the time, help yourself first, find your center, your peace and stability! Then if someone needs you, let them ask for help and follow your intuition!
You have to respect yourself!

---
The third rune, to the north, is Fehu overthrown, which represents the pearl of wisdom that you can draw from this situation. What treasures are you ready to unveil? What new version of yourself are you ready to embody?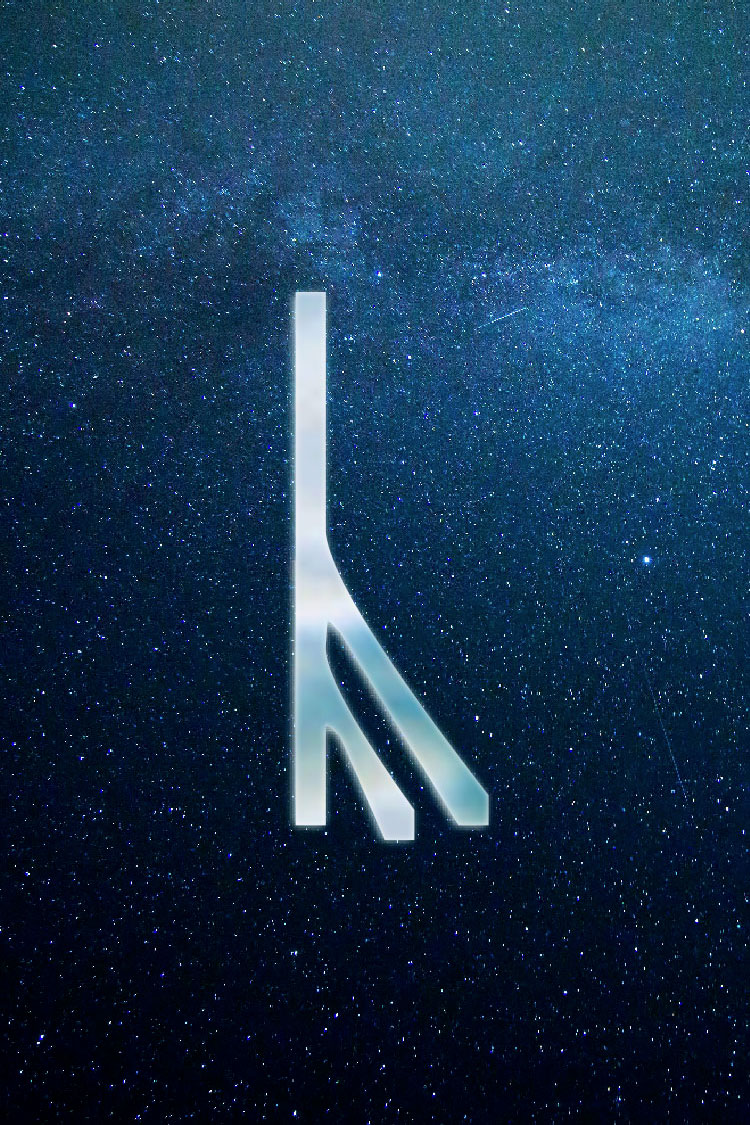 Rune of vigilance, learning and possessions, Fehu overthrown tells me that you are about to question a belief established in you for a long time and that affects your life and your way of seeing the world.

You may have thought you were a good person; your religion, your beliefs, or your positioning made you feel good about yourself, you felt part of something bigger, just, beautiful and good.

Now, with the hindsight and experience you currently have about your situation, you are probably asking yourself the question of the validity of your reasoning, your beliefs and your ways of thinking. Maybe you're uncovering an old pattern, or a way of doing things, and that may be scary!

To question the world in which we have always lived is frightening but also rewarding, it means that you are capable of listening, of common sense and of wisdom; you are listening to your feelings and this allows you to make right decisions for yourself, protect yourself and find your balance and path in chaos.
Trust yourself and your feelings, remain silent and watch!
---
The fourth and last rune, in the East, represents the possible path to take and which can be revealed to you, if you wisely share the gift of your new vision.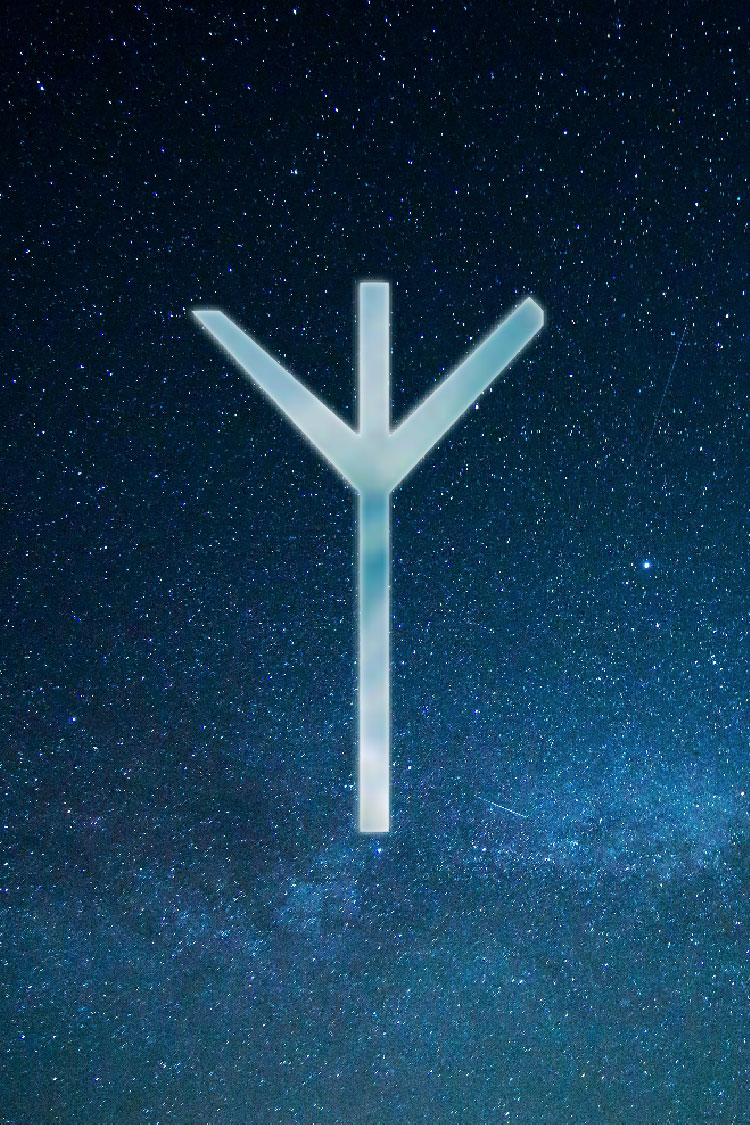 Algiz, a rune of correctness, positioning and protection tells you that if you decide to listen to yourself, respect yourself and follow your inner wisdom, you will be able to detach yourself from misplaced importance and heaviness.

By listening to your emotions and taking care of yourself at every moment, you enter into a receptive posture that protects you from negativity. Your ability to speak and act at the most opportune moment, preserving your strengths and fully respecting you, create a new current in your professional environment.

Your spirituality then becomes your strength, your tool, your inner support and gives you the courage to be totally yourself at every moment, to radiate your truth without fearing those around you.

Your fluidity, gentleness and love are reflected around you, shared and spread naturally, your world is changing because your energies allow this change. You are a natural passer of benevolence and patience.
Allow this change, first for yourself, then for others!
Throughout these four months, you will experience major changes in your life, to help you throughout this transition I suggest you download the wallpaper down bellow, to remind you of your long-term goal!
Click on the image to enlarge it, then right-click and "Save Image As!"
Thank you for your attention, I hope this message will help you overcome the difficulties you face with gentleness.